Price

RM7,780.00

Brand
Yamaha
Size (L x W x H)
34 cm x 42 cm x 200 cm
Availability
In Stock
Quantity
Description
Highlight
1100W power output
Biggest in the class 12-inch subwoofer for low frequency
1.5-inch x10 slim line array speaker for high frequency
Digital mixer (3 mono mic/line + 1 stereo line)
Multi band comp "MODE" for master output
1-knob EQ per channel
High resolution SPX digital reverb (4 types, parameter control)
Priority Ducker for stereo channel
4 band PEQ per channel via remote control APP "STAEGPAS Controller"
2x Hi-Z (high impedance) inputs
Link out and monitor out
Dedicated cover included
Optional reverb foot switch (FC5)
Optional dolly (DL-SP1K) for more portability
More Practical. More Professional. More Powerful.
The STAGEPAS 1K mkII is an all-in-one portable PA system that allows you to quickly and easily transform any location into your stage, delivering professional-level audio performance with a simple setup that enables aspiring artists to focus on their music and get the most out of their performances. Adding an even higher sound pressure level and more flexible remote functionality than its predecessor, the second-generation STAGEPAS 1K mkII boasts the same combination of lightweight cabinet design, professional mixing functions, and simple operability, that has elevated the STAGEPAS all-in-one package above all other portable PAs. By adopting a concert-quality mixer and speaker, we have raised the bar for portable PA by utilizing Yamaha's unique experience and know-how developed over decades of producing innovative, professional audio equipment from every stage of music engineering and production.
J-curve slim line array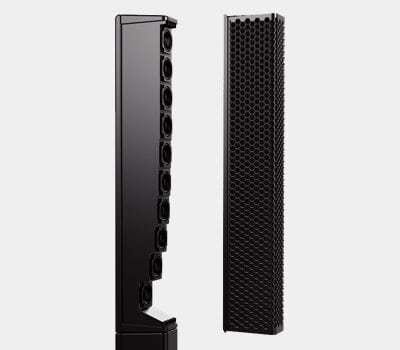 The high-frequency speaker array is comprised of 10 x 1.5-inch small diameter speakers. By adopting a J-curve array configuration, the high-frequency unit achieves coverage of 170° horizontal and 30° vertical. With such a long, 10-driver array design the STAEGEPAS 1K mkII can deliver clear, high quality sound consistently over longer distances from the front to the rear of the audience.
Class-leading 12-inch "compact" subwoofer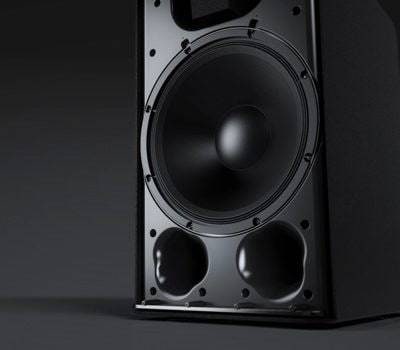 The subwoofer features a 12-inch speaker unit which is hardly "compact," and actually the largest in its class. Despite housing a 12-inch speaker unit that is the largest in its class, the STAGEPAS 1K mkII boasts the smallest cabinet on the market for a subwoofer of this size and power.
By incorporating Yamaha's own Twisted Flare Port™ technology to reduce port wind noise that can occur with compact bass-reflex subwoofers, the low-end output is maximized, producing very deep, powerful, distortion-free bass.
1100W amplifier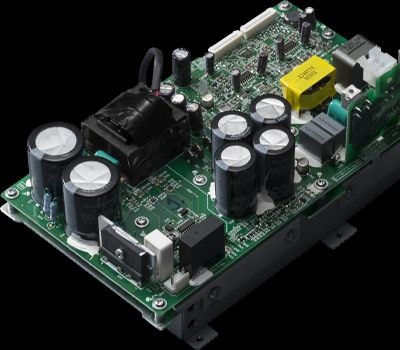 Also at the top of its class for output power, the 1100W Class-D amplifier module is capable of delivering an impressive 125 dB SPL from the deceptively compact speaker cabinet. And just as importantly, we've leveraged Yamaha's decades-long experience as a manufacturer of professional audio products, and innovator of related technologies to ensure that with great power comes great stability, and that the STAGEPAS 1K mkII maintains the same accurate, superior-quality sound even at high output.
Digital mixer with versatile input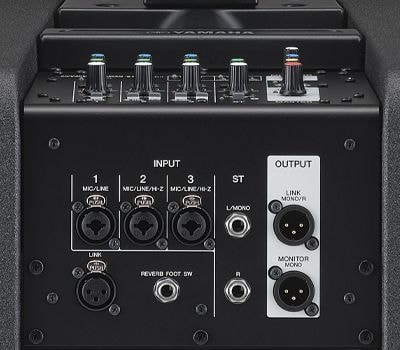 With outstanding flexibility for a PA system of this size, the 5-channel digital mixer features three channels of mono microphone/line inputs and stereo inputs, with two of the mono input channels equipped with Hi-Z connectivity for direct input of acoustic-electric guitars and other instruments. In addition to Phone and 1/8-inch mini jacks, the stereo connections support playback with Bluetooth devices as well as a wide range of input sources from instruments to CDs, PCs and smartphones.
STAGEPAS Controller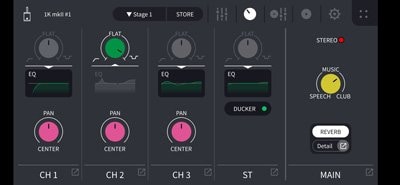 With an all-new interface, STAGEPAS Controller is a dedicated remote control application for the STAGEPAS 1K mkII that allows users to adjust volume and 1-knob EQ or 4-band PEQ via Bluetooth during rehearsal or performance. You can also save the adjusted settings for certain songs or applications in order to shorten your setup process in the future and maintain consistency from one performance to the next, and even control the volume of multiple STAGEPAS 1K mkII units from within the application.
What's in the box
Power cord x 1, Cover x 1
Include Dolly DL-SPK1